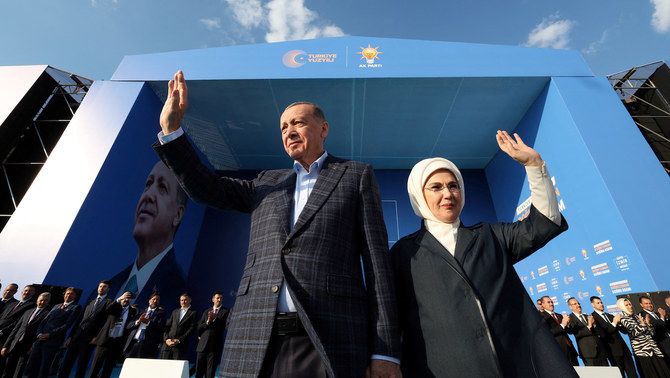 Erdogan overcomes ill health as Turkish elections set to go to the wire
Turkiye is facing one of the most competitive elections in its political history with both presidential and parliamentary polls set to be held on May 14.
After President Recep Tayyip Erdogan was forced to postpone his campaigning last week due to a reported intestinal infection — he fell ill during a live interview — questions were raised as to how his health might affect his popularity among voters.

Since undergoing intestinal surgery in 2011, the 69-year-old's health has been often subject to false reporting.

The latest upset meant Erdogan was forced to inaugurate the activation of a Russian-built nuclear power plant on Thursday via a video link.

But after a few days' rest, he was back on the scene on Friday at Teknofest, a major aerospace and technology event, alongside Azerbaijan's President Ilham Aliyev and Libya's Prime Minister Abdul Hamid Dbeibeh.

Erdogan's main opposition in the election is 74-year-old Kemal Kilicdaroglu. Both men have campaigned hard in recent weeks, holding daily rallies across the country.

"Erdogan's voters have probably lost their morale a little, since he's a charismatic leader who easily gathers people around him," Hurcan Asli Aksoy, deputy head of the Berlin-based Center for Applied Turkey Studies at the German Institute for International and Security Affairs, told Arab News.

"(But) Erdogan will try to attend and organize big and attractive meetings to regain their attention," she added.

Erdogan has been in power for two decades and is seeking a third presidential term but the latest polls give Kilicdaroglu a narrow lead.

The challenger's campaign has focused on the public's discontent at Turkiye's "one-man" rule and proposes to replace it with a more democratic system. He has also promised to bring wealth and prosperity to Turkey amid an economic recession.

Kilicdaroglu recently pledged to introduce a five-year ban on foreigners buying property in Turkiye to help ease a long-running housing crisis.

"Within a year, rent prices increased by 197 percent. The minimum wage is 8,500 lira ($437) while the average rent for a house is 7,400 lira," he said.

According to a survey by Turkish firm Konda that was leaked on social media, Erdogan won 43 percent of the votes in the first round against Kilicdaroglu's 42 percent. But in the second round, the challenger secured 51 percent to Erdogan's 49 percent.

During his campaign rallies, which drew large crowds even in conservative strongholds, Kilicdaroglu was accompanied by potential vice presidents Ekrem Imamoglu and Mansur Yavas, the mayors of Istanbul and Ankara respectively.

Osman Sert, research director of polling firm Panoramatr, said Kilicdaroglu was showing he had wide appeal among voters, from the center-left to the center and nationalist groups, as well as those with Islamist tendencies.

"Both Imamoglu and Yavas have helped him during his electoral campaign and they appeal to large crowds because they represent the center and nationalistic tendencies within Turkish society," he told Arab News.

"As the opposition conducts his campaign with several actors under the same bloc, they have been able to hold rallies across 10 cities on the same day. But, their campaign still lacks a main message."

In contrast, the Erdogan camp was using identity politics to win over voters, but the leader's absence had hampered this approach, Sert said.

"As the three-day sickness of Erdogan revealed, the government, in contrast to the opposition bloc, does not have any backup actors who can overcome the short-term absences of the leader," he said.

"The only political actor who could generate rhetoric during the campaign is Erdogan and when he is not on the campaign field, the void can't be filled, because in Turkiye political power has become extremely centralized around Erdogan."

While Erdogan was recuperating, Interior Minister Suleyman Soylu attracted criticism by referring to the upcoming elections as the "West's political coup attempt" against the current regime.

But Sert said the president's brief absence was unlikely to have had a major effect on his ratings.

"Such short-term disappearances can happen in any country and it is totally understandable that it can fuel some speculations and concerns," he said. "But this time it was not for a long duration and it did not change voter preferences to a significant degree."

The race was still neck and neck, he said.

Erdogan on Saturday delivered a 40-minute speech to voters in the western province of Izmir — an opposition stronghold — helping dispel concerns about the state of his health.