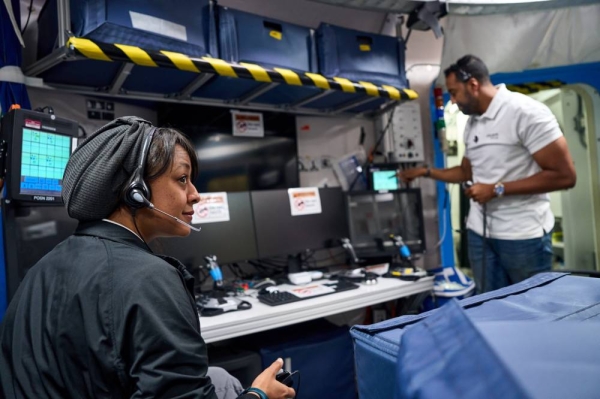 Barnawi and Al-Qarni mission to ISS marks a new phase for Saudi Arabia in space
Rayyanah Barnawi and Ali Al-Qarni historic scientific mission to the International Space Station (ISS) marks a new phase for Saudi Arabia in space.
Saudi Arabia's Astronauts Program is an ambitious and pioneering initiative launched to strengthen its position in space and develop its human and industrial capabilities.

The program aims to stimulate innovation, excellence, and collaboration among various stakeholders in the national and international space sectors.

It seeks to qualify experienced Saudi personnel for long- and short-term space flights, enabling them to participate in scientific experiments, international research, and future space-related tasks.

The program's significance lies in increasing awareness and interest in science, technology, engineering, and mathematics jobs and disciplines.

Previous manned space flights have contributed to significant global innovations, such as laser technologies, respirators, and air purifiers.

Additionally, the program focuses on developing human capital and attracting competent individuals who can contribute effectively to the growth of the space sector.

Furthermore, the program holds potential for commercial returns in the industry, anticipated from its successful implementation.

As part of the integrated package under the Saudi Vision 2030 initiative, the program includes sending Saudi male and female astronauts on missions to serve humanity.

The Saudi astronauts will conduct various experiments and studies during the space mission.

These include investigating changes in vital indicators in the blood that reflect functional brain tissues during short-term space missions and determining the safety of such trips for the brain.

Additionally, they will measure the effect of short-term space flights on telomere length and conduct a mydriasis experiment to measure intracranial pressure.

Other experiments will focus on enhancing knowledge of spaceflight-associated neuro-ocular syndrome (SANS) by measuring electrical activity in the brain using EEG and studying the diameter of the optic nerve envelope for astronauts.

The mission will also explore cerebral perfusion and postural adjustments of the brain in microgravity using near-infrared spectroscopy as a non-invasive technique.

Furthermore, experiments will be conducted to study the possibility of seeding in a microgravity environment and its potential applications for settlements on the Moon and Mars.

The program will also investigate cell sciences, including understanding the changes in the inflammatory response in space, particularly the lifespan of messenger RNA, a crucial molecule for protein production related to inflammation.

Immune cell models will simulate the inflammatory response to drug treatment during microgravity. Additionally, awareness and educational experiments in microgravity will focus on fluid mechanics, aerodynamics, and heat transfer patterns.

These experiments aim to foster critical thinking among Saudi students about the impact of microgravity on their experiment behavior and results.

The research outcomes will enhance the Kingdom's global position in space exploration, contribute to humanity's benefit, and affirm the role of Saudi research centers in making a significant impact across priority areas such as health, sustainability, and space technology.

These endeavors align with the goals of Saudi Vision 2030.

The Saudi Space Commission launched earlier the Kingdom's program for astronauts.

This trip comes within an integrated package aimed at qualifying experienced Saudi cadres to go into space flights, participate in scientific experiments, international research, and future space-related missions, and contribute to raising the position of the Kingdom and achieving the goals of Saudi Vision 2030.