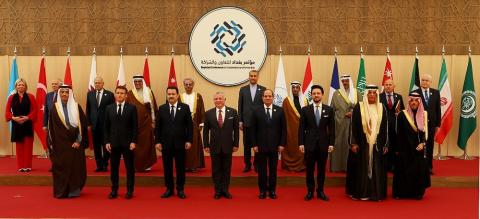 Baghdad Conference for Cooperation and Partnership Stresses Security, Sovereignty of Iraq
The second Baghdad Conference for Cooperation and Partnership stressed on Tuesday support to Iraq as its confronts all challenges, including terrorism.
The conference was held at the Dead Sea, Jordan. Hosted by King Abdullah II, it brought together leaders from across the region, as well as officials from Europe, Türkiye and Iran.

The closing statement highlighted Iraq's historic victory and sacrifices in its fight against terrorism that was waged with international and regional support.

The participants said they will continue to build on the outcomes of the first Baghdad conference and forge ahead in cooperating with Iraq to support its security, stability and sovereignty, democratic path, constitutional process and efforts to consolidate dialogue as a means to resolve regional disputes.

They underscored support to Iraq's efforts in consolidating the state of law and constitution and building institutions that are capable of reconstructing the country and meeting the aspirations of its people.

They highlighted the importance of the tripartite cooperation mechanism between Jordan, Egypt and Iraq and the economic projects they agreed upon. They stressed the importance of cooperation projects between the Gulf Cooperation Council (GCC) countries and Iraq, most notably in electricity and transportation.

The participants said achieving economic development and ensuring the success of regional cooperation projects demand constructive regional relations that are based on good neighborliness, refraining from meddling in the affairs of others, respecting international law and the adoption of dialogue to resolve disputes.

They stressed the need for cooperation to cement security and stability and fight terrorism.

The participants reviewed the impact regional and international crises are having on Iraq and the region. Overcoming them demands comprehensive regional cooperation and serious economic and political approaches that reflect common interests and back the development process in Iraq and the region, they said.


King Abdullah II

Jordan's King Abdullah underlined Iraq's pivotal role in the region and the need to bring together points of view to bolster regional cooperation.

He stated that the very holding of the conference underscores the determination of all parties in working with the Iraqi government and people so that they can achieve more prosperity.

He noted that the conference was being held at a time when the region was enduring security and political crises and food, water, climate, and energy and health challenges.

King Abdullah said Jordan believes that the region needs stability, just and comprehensive peace and regional cooperation, especially in economic and development fields.


Sudani

Iraqi Prime Minister Mohamed Shia al-Sudani stressed that his country will not be used as a platform to threaten countries in the region.

Iraq is distancing itself from axis and calls for escalation, he added.

He also called on Türkiye and Iran to safeguard Iraq's water security, noting that his country was facing an existential crisis due to water shortages.

He also called for maintaining joint work to combat extremism ideology.


Macron

French President Emmanuel Macron remarked that Jordan is playing a central role in supporting dialogue and bolstering diplomacy in the region.

The participants at the conference are seeking to consolidate security and stability in Iraq and the region, he added.

Everyone is committed to having balanced ties with Iraq, he continued. "If we want to secure the stability of Iraq, then we should resolve the problems with its neighbors," he stressed.

The region, he said, has the potential to become an active participant in taking international decisions.


Sisi

Egyptian President Abdul Fattah al-Sisi said the situation in Iraq has witnessed a marked improvement.

He highlighted the brave sacrifices of the Iraqi people in their fight against terrorism, adding that Cairo rejects any meddling in Iraq's internal affairs.

He reiterated Egypt's support to all efforts aimed at ensuring security in Iraq.


Saudi FM

Saudi Foreign Minister Prince Faisal bin Farhan bin Abdullah underscored the Kingdom's categorical rejection of any assault on Iraqi territory.

Saudi Arabia stands by Iraq in its fight against terrorism and extremism and against everyone seeking to stir divisions, he added.

It backs Iraq's efforts to reclaim its historic standing as a land of civilization, learning and knowledge, he went on to say.

Prince Faisal said Riyadh welcomes Iraq's reclaiming of its positive role in deepening trust, partnership and peace on the regional and international levels.

The Kingdom hails the political will in Iraq as it confronts challenges and consolidates security and stability to achieve the aspirations of the people, stressed Prince Faisal.

Saudi Arabia will not spare any effort in supporting Iraq's economic and development ambitions out of its belief that the stability of Iraq will impact the entire region, he stated.


Iran and Türkiye

At the conclusion of Tuesday's conference, French Foreign Minister Catherine Colonna said several participants tackled the issue of foreign meddling in Iraqi affairs.

She said Iran must respect international law and the United Nations Charter on Human Rights, cease its interference in the affairs of its neighbors and release French hostages.

Iraqi Foreign Minister Fuad Hussein stressed that his country wants an end to Iranian and Turkish meddling in its internal affairs. Dialogue must be held to resolve the crisis.

He refused for Iraq to be used as a platform to carry out attacks against its neighbors, which in turn, must respect Iraq's sovereignty.

Baghdad is seeking negotiations to resolve problems, starting with the Turkish and Iranian assaults on its territories.

Egypt is set to host the third Baghdad Conference for Cooperation and Partnership in 2023 with the participation of Saudi Arabia, Jordan, the United Arab Emirates, Bahrain, Türkiye, Oman, Qatar, Kuwait, Egypt, the Arab League, Organization of Islamic Cooperation, Gulf Cooperation Council, United Nations and European Union.