Amir Albazi's journey to become the first Iraqi man fighting for the Ultimate Fighting Championship (UFC) may have been tougher than any of his bouts to date.
The rising talent in professional mixed martial arts (MMA) was born in Baghdad but grew up in Sweden, after his family fled Iraq to escape Saddam Hussein's authoritarian regime.

Albazi arrived in the Nordic country as a boy who could not speak a word of Swedish - and he experienced severe culture shock in his new surroundings.

"In school, I couldn't understand what people were saying, but I could tell they were making fun of me," he told the BBC.

"The only way I could express myself was with my fists."

The 29-year-old said his world was transformed when, by chance, he found MMA on TV. It was love at first sight.

Jiu-jitsu background

MMA combines techniques from different disciplines of martial arts, including kickboxing, Brazilian jiu-jitsu, boxing and wrestling.

The sport was conceived in the early 1990s as a way to find the best combat style. It now boasts millions of fans worldwide, and the UFC is its biggest promoter.

Albazi immediately sought the nearest gym in Stockholm where he could learn the sport.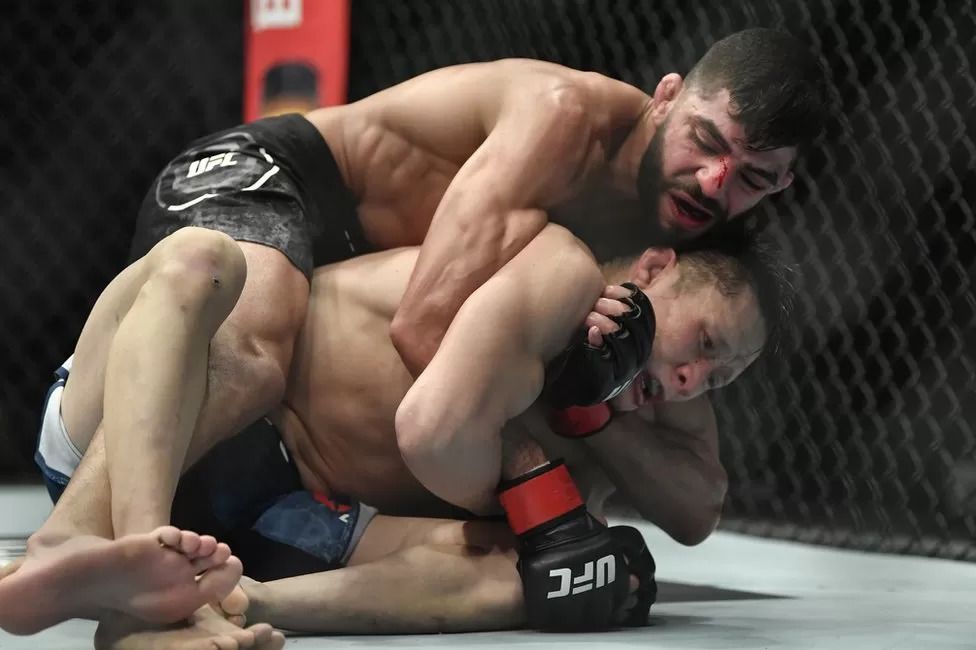 The majority of Albazi's victories have come by way of choke holds

At the time, MMA was viewed as too brutal for adolescents, so the young refugee could only train in jiu-jitsu, a martial art based on ground fighting and submission holds.

The sport gave him confidence and steered him away from the troubles that surrounded him in the tough Stockholm suburb of Bredang.

He won several major jiu-jitsu titles as a teenager and travelled around Europe for MMA bouts, lying about his age so he would be let into the cage.

He moved to London to study sports science and then relocated to Las Vegas, where the UFC is based.

'Wear him out and get the choke'

As a professional, Albazi is known by his ring name, "The Prince" - a translation of his Arabic first name.

He now has almost 15 years of experience in the sport and wants to become the first Iraqi and Arab champion in the UFC's history.

"I feel a great responsibility on my shoulders being the only Iraqi in the UFC. I feel as if I am representing my country and the whole Arab world," he said.

Albazi competes in the flyweight weight category (53-57kg; 116-125lbs) and boasts an impressive record of 15 wins and only one loss, with the majority of his victories coming by way of choke holds.

He will next appear in the ring in Las Vegas on 17 December to face Alessandro Costa of Brazil.

"My plan is the same as always. I will take him down, wear him out and get the choke," he said.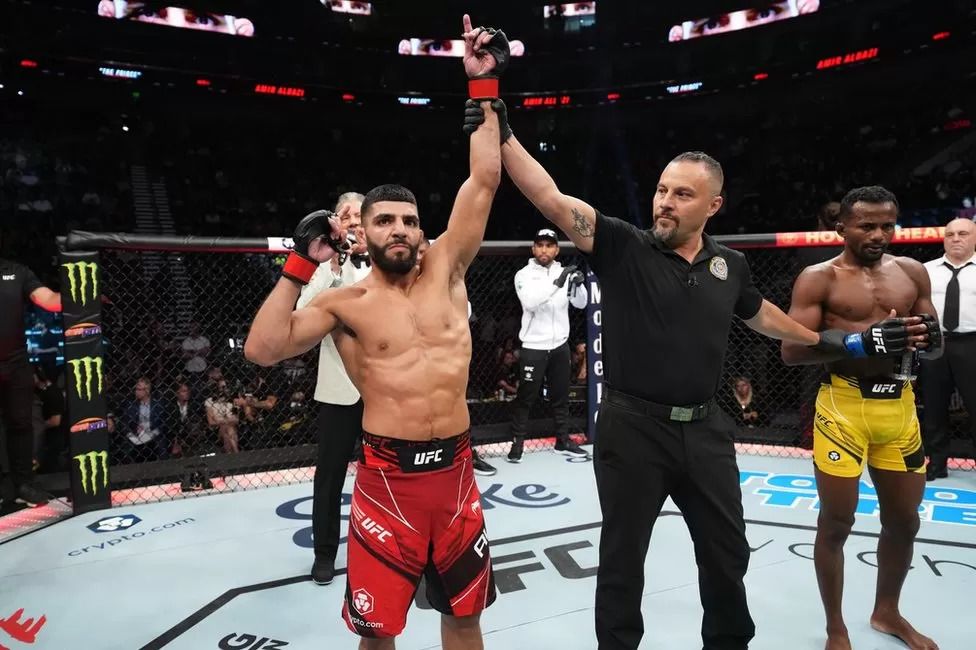 Albazi defeated Francisco Figueiredo of Brazil at UFC 278 in Salt Lake City in August

Albazi explained that he eventually plans to return to Iraq and develop MMA there.

"All Iraqis are champions at heart, so it will come naturally for them. All they need is the support and facilities to train," he said.

Following his last UFC win, Albazi met with the spokesman of the Iraqi military to discuss ways to evolve the sport.

His dream is to inspire a generation of young athletes in the Arab world - just as the Russian fighter Khabib Nurmagomedov and the Cameroonian star Francis Ngannou have done elsewhere.

Despite growing up abroad, Albazi has remained close to his culture, and always enters fights with the Iraqi flag draped over his shoulders.

"Many Arabs in the West shy away from their heritage, but it should be the opposite," he said. "Arab traditions and values make me who I am and give me strength."

In a recent documentary, he extolled the health benefits of pacha, a traditional dish made from slow-boiled sheep heads and other innards.

Albazi credits much of his success to his Islamic faith.

"I have seen many of the top fighters stressed before they fight. Because of my belief in God I always remain calm. I know everything has been written for me," he said.

But his work ethic also helps him excel, he said. "My whole career if people did 10 reps, I would stay after training and do extra," he said.

"I have never been talented, the strongest, the smartest... I was stubborn."